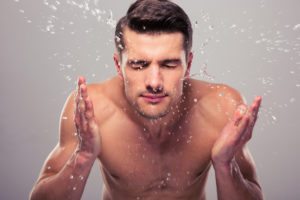 As an Esthetician, one of the most popular questions my guests ask me is if men can get facials. Absolutely! A lot of men are scared to come in to the spa because they think it is too "feminine". But times have changed! A lot of men are realizing that they also need to take care of themselves. So the real question is do men need facials. The answer is yes!
Besides the fact that facials are relaxing, there are several benefits to getting a facial. But because of men's coarser skin, larger pores, and increased chance of sun damage, men need facials probably more than the ladies. Here are three reasons why…
1. The first reason is irritation caused from men's shave routine. Shaving can cause razor burn, ingrown hairs, breakouts and redness. The redness may fade but the underlying problems do not. A facial will deep clean breakouts and sooth irritated skin. The esthetician will apply products with specific techniques that address shaving side effects. The smoother your skin, the better your shave will be.
2. Another good reason for men to get regular facials is because men produce more oil. In general, men have higher testosterone levels than women, which explain why men produce more oil. When your skin is not cleansed properly, it will clog your pores and lead to blackheads and breakouts. If this is the case, your esthetician will perform extractions during a facial. This is the removal of blackheads and breakouts.
3. The third reason men should get facials is because your esthetician understands your skin type and its needs. Just because men produce more oil than women does not mean every man has oily skin. For dry skin types, you will need a facial that hydrates your skin. If your skin is oily, you need a facial to decrease your oil or shine, and minimize pore size. For sensitive skin, your Esthetician will focus on the inflammation in your skin, leaving you with a better skin tone. Every facial is customized to your needs.
It is recommended to get regular facials every 4-6 weeks. Then your Esthetician will discuss what your regimen should be at home to treat your skin. I guarantee every man will LOVE this experience. Not only is it a luxury, but also a necessity!