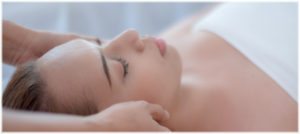 Enjoy a spa package in our newly renovated luxury spa. Customize a package to fit your desires. Just book 3 or more of our spa services to form a customized package, and you will receive a 10% discount. The more services you combine, the more you save. Packages can also be made to accommodate couples or friends.
Choose from the following services. If you have any questions, feel free to contact us at 502-426-2226.
Facial Services
Custom Facial (50 minutes) $75/$85*
Signature Facial (75 minutes)  $115/$120*
Tower Suite Custom Facial  $100
Tower Suite Signature Facial $150
Dual Exfoliation Peel $115
Massage Services
Custom Massage (50 minutes) $85/$95*
Signature Massage (75 minutes) $115/$125*
90-Minute Massage (90 minutes) $150/$160*
Tower Suite Custom Massage $150
Tower Suite Signature Massage $180
Reflexology/Scalp Massage $80
Body Services
Custom Body Service $95
Signature Body Service $150
(includes 20 minute Aveda Stress-Relieving Scalp Massage)
Ayurvedic Treatments
Steam Tent/Shirodhara and Reflexology & Scalp Massage $150
Himalayan Rejuvenation $185
A la carte Services
Perfecting Plant Peel (30 minutes) $40
Botanical Skin Resurfacing $60
Energizing Eye Treatment $40
Makeup Services
Makeup Lesson $65
Makeup with Eyelash Application $50
Temporary Eyelashes $25
Hair Removal
Waxing available for face and body.
Pricing per area.
(*)Prices vary depending on level of technician.
Please allow 8-12 weeks to book through the week. Depending on the season, it could take 4-6 months for a Saturday.