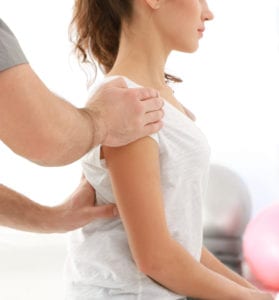 Did your mom always tell you to stand up straight? Poor posture doesn't just upset your mother—it can have some serious side effects. Slouching causes slacked muscles to get shorter and tighter, while allowing other muscles to virtually wither away. The misalignment of your spine puts added stress on your circulatory, digestive and nervous systems causing them to work below capacity. As a result of poor posture, you can also suffer from: increasing pain in various joints along the back, nerve related pain due to pinching in the spine or other constrained area, deformities which may be difficult to correct, improper digestion and limited breathing capacity as chest and spine cave in on lungs.
Massage therapy relaxes and loosens muscles allowing for proper posture. A massage teaches you what it feels like to be in correct alignment. During a massage you can experience natural muscle movements and skeletal positions. After the massage, you will be more likely to seek out these healthier movements and positions with less discomfort, ultimately contributing to improved posture and its benefits.
The more relaxed your muscles feel, the more liberated your joints feel and the steps to better posture will be made easier. Massage therapy has many benefits including creating space between your spinal vertebra and joints which reduces the risk for intervertebral stress and compression. It's this compression, which attributes to disc degeneration, as well as, nerve and vascular damage. In all, a good massage translates to less back pain, less sciatica discomfort, and prevention of both muscular overuse and atrophy.
A regular massage program ultimately encourages a more balanced, elongated body. Better posture is achieved and the improved health benefits it brings can be enjoyed. Make an appointment today for a customized massage at the newly renovated spa area at Z Salon. Your body will love you for it.