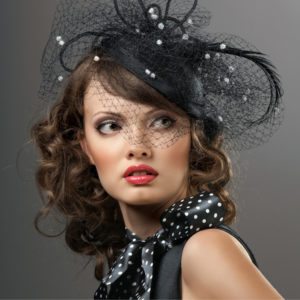 Ready for something different? This year, it's bye-bye to curling rod curls and polished looks and hello to unfinished, more natural texture styles. The best part? These looks will hold up against the always unpredictable Derby weekend weather. This spring 2018 trend also plays nice because it lets your hat – or fascinator – be the star! Let's talk about why this year's Derby is going to be your best hair day ever.
Natural Texture Done by a Professional
Okay, so to pull off this look, your stylist will manipulate your hair to look like your natural texture. So, you're still going to have that styled, put together vibe going on. But because this is a more refined version of what the good Lord gave you, your hair isn't going to be fighting against its natural state — you won't have to have a gazillion bobby pins poking you in the scalp all day.
A Look for Every Length
While set waves from the 20s and 40s, that "Veronica" look, have been a go-to for several years, short-haired gals won't be left out this year. You can opt for a slicked back look or go for a low pony. But no Ballerina buns or high-maintenance ponies this year – save that for the thoroughbreds! For longer hair, it's all about the beach waves.
Get the Right Hat
A few tips for choosing the right hat:
Wherever you part your hair is where the hat should have the most volume.

Getting a hat that goes with your face shape, pay close attention to your jawline

Keep the width, volume and length of your hair in mind.
If in doubt, don't be afraid to bring your hat in and have a chat with your stylist about your Derby look.