The ponytail is a quick, classic style that's easy to create. Today, Emily from Aveda Institute Minneapolis shows us how to create a polished ponytail in just a few steps. This style is great for a sophisticated look in the office and carries through into the evening. See the step by step instructions below for a polished ponytail.
How to get a polished ponytail:
1. Start by br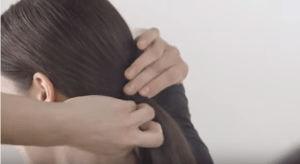 ushing your hair thoroughly using your Aveda Paddle Brush.
2. Lightly spritz hair with Aveda's Air Control Hairspray and brush towards the back once more.
3. Sweep your hair back into a ponytail, using your fingers. Emily chooses a low ponytail by the nape of the neck.
4. Secure the ponytail with an elastic.
5. To give your pony a more polished look, take a small piece of hair from the bottom of the pony and wrap around the base, covering the elastic. Be sure to spritz the hair with Aveda's Air Control Hairspray prior to wrapping to give the strand a controlled and polished look.
6. Secure the strand by hiding the bobby pin at the end of the strand.
7. Complete the look with Aveda Brilliant Spray-On Shine and a kabuki brush. Lightly spritz Brilliant Spray-On Shine onto the kabuki brush and gently brush down any flyaways in the direction of the ponytail and your part.
To see the full demonstration, watch the video below. Contact Z Salon & Spa to make an appointment with one of our talented, advanced hair designers and stylists. Call us today 502-426-2226.